2016 Essay Contest Winners
To me, the role of sportsmanship in youth sports is to teach aspiring athletes how to become better people through respect and encouragement. –Billy Lehrman, 10th grade winner.
We are happy to announce the winners of our second annual Youth Essay Contest on Sportsmanship. As was the case with our first contest, selecting the winners was difficult given the overwhelming response we had from student athletes across the city. We were grateful to have Modell's Sporting Goods as sponsor of this year's contest.
The quality of the essays was particularly evident. As one of our judges, Craig Carton of WFAN Radio, said, "reading so many columns of first-person experiences from young people recognizing the importance and benefits of being a good sport was inspiring.  The lessons these kids have learned on the court, the field, the track and, in some cases, the woods, has taught all of them the value of sportsmanship and great leadership.  In addition, great leadership from coaches and parents alike will serve them for a very long time.  If this is a small piece of what today's kids are growing up to become, then the world will be in a very good place with these future leaders setting the pace for the next generation."
Entrants were asked to submit a 400-500-word essay on "What role does sportsmanship play in youth sports." They could have chosen to share a true story of sportsmanship (good or bad) that they observed or were a part of, but it was not required. The essays were separated into four categories: 6th & 7th grade, 8th & 9th grade, 10th grade and 11th & 12th grade. Winners in each category will receive awards valued at $500 (in case and Modell's gift cards). Finalists will receive $100 prizes (cash and a Modell's gift card).
Essays were judged on the basis of originality, emotional appeal, use of the theme, grammar and spelling and writing skills appropriate for the author's grade. All essays were read anonymously and presented to the judges. Any names (such as of sports programs, schools or teams) that were mentioned in the text and which could have made them identifiable were removed. In such cases the text was re-inserted in the essays below.
In addition to Craig Carton, the judging panel included Olympic Silver Medalist in fencing, Tim Morehouse, and Kym Hampton, a former NY Liberty player and current Community Ambassador for the team.
Morehouse added, "I was extremely impressed with the maturity expressed by the athletes in their essays. Their dedication to the very essence and purity of sportsmanship will not only make them better people, but also undoubtedly makes youth sports better. I very much enjoyed being a part of this contest and feel confident that the future of sports is in good hands."
For her part, Hampton noted that, "As a former professional basketball player, it was an honor to have the opportunity to read what these student athletes had to say about sportsmanship. Not only were the stories great, clearly each student understands the importance of sportsmanship on and off the playing field/court."
We'd like to thank all the young kids across New York City who took the time out of what we know are very busy schedules to write essays. We were overwhelmed by the response and are thrilled that this contest has become an annual tradition for the NYC youth sports community. Congratulations to the winners, the finalists, the honorable mentions and all the student athletes who submitted essays.
Below are the winners. Click on the links to read their essays.
6th & 7th Grade
Winner:Brazen Van Horn, 6th grader – home schooled (Brooklyn)
Finalists:Joseph Boniello, 6th grader at St. Luke School (Queens) and Aidan Dolinsky, 7th grader at Hunter College High School (Manhattan)
Honorable Mention:Sophie Divilek, 7th grader at Riverdale Country School (Bronx) and Jamie Gall, 7th grader at Trevor Day
8th & 9th Grade
Winner: Baird Johnson, 8th grader at Robert Wagner Middle School (Manhattan)
Finalists:Thomas Knoff Jr., 9th grader at Xavier High School (Manhattan) and Anna Lanzman, 9th grader at Stuyvesant High School (Manhattan)
Honorable Mention: Jeremy Weine, 8th grader at MS 447 (Brooklyn) and Kathleen Staunton, 9th grader at the Marymount School of New York (Manhattan)
10th Grade
Winner:Billy Lehrman, 10th grader at Horace Mann (Bronx)
Finalists:Melina Asteriadis, 10th grader at Bronx HS of Science (Bronx) and Kelly Luo, 10th grader at Stuyvesant HS (Manhattan)
Honorable Mention:Kenneth van der Lande, 10th grader at The Beacon School (Manhattan),Vanessa Miranda, 10th grader at the Laboratory School of Finance and Technology (Bronx), and Oscar Garcia, 10th grader at the Business of Sports School (Manhattan)
11th & 12th Grade
Winner:Emily Hirtle, 12th grader at Stuyvesant HS (Manhattan)
Finalists:Danielle Black, 11th grader at The Dalton School (Manhattan) and Adryan Barlia, 12th grader at The Beacon School (Manhattan)
Honorable Mention:Ava DeMayo, 11th grader at Frank McCourt HS (Manhattan)
---
THE ESSAYS
6th & 7th Grade Winner: Brazen Van Horn, 6th grader – home schooled (Brooklyn)
Having good sportsmanship as a kid on the field and having good sportsmanship as an adult in life are directly related. Whether it's a game of soccer, or a promotion at work, sportsmanship is a very important aspect of life. The things you learn as a child are the building blocks of your life and when you learn good sportsmanship as a kid, it will stay with you throughout your life. Learning not only how to lose with respect, but also how to win gracefully, are skills that will not go unused.
In the Merriam-Webster Dictionary, the definition of sportsmanship is "fair play, respect for opponents, and polite behavior by someone who is competing in a sport or other competition." While this technically is what sportsmanship is, it does not capture the fundamental essence of it. Sportsmanship is about so much more; making yourself, your team, and the other team feel good, and making sure people remember you as respectful and honest.
After every soccer game, both teams line up and high five each other saying "Good game." One game after my team won, there was a kid that said bad game when they high fived each of my teammates. I will always remember this instance of bad sportsmanship. On the flip side, one game I was defending and the kid on the other team that was dribbling the ball fowled me. Even though he could have easily scored, he stopped, and ran away from the ball to the referee. He told the referee that he fowled me and even though I only got a free kick, I will always remember this as an act of good sportsmanship. These little acts of good and bad sportsmanship are remembered and can define the light in which people see you.
Sportsmanship will stay with you throughout your entire life. If you never learned how to have good sportsmanship as a kid then until you do, people will not want to work with you. You may get jealous when your co-worker gets promoted, or you may brag that you got promoted instead of your co-worker. Sportsmanship is an important skill, and when it is taught at a young age, it develops into something used in everyday life. In the end, sportsmanship can help you get jobs, keep jobs, make friends, and be respected. The truth is, teaching children sportsmanship at a young age does one important thing: it prepares them for life.

6th & 7th Grade Finalist: Joseph Boniello , 6th grader at St. Luke School (Queens)
Sportsmanship is the respect we show to one another while playing the sports that we love. The word sportsmanship almost sounds like the word friendship, but in sports. Just as we would treat our friends with kindness and respect that is how we should treat our teammates or those we are playing with or against. The sport that I play is bowling. I hope to one day be a professional bowler. It is very important to have good sportsmanship while bowling. I play competition bowling. I am versing every child I play. When another child does poorly I feel badly for them. I do not express any happy emotion even though their action may help me win the game. Instead, I actually feel badly for them, instead of happy for myself. I put myself in their shoes. How would I want them to treat me if that had happened to me? If someone that I am playing against gets a gutter ball, I am not going to smile or snicker because I would not want them to do that to me. I have witnessed many acts of good sportsmanship while playing bowling. When I have done poorly, or made a mistake, maybe only knocking down one pin, I have turned around and instead of seeing smiles on my opponents' faces, I have seen painful expressions. It's like they felt bad that that had happened to me. This makes me want to treat them with the same kindness.
I feel that the better my opponent plays, the better I play. I really want my opponent to do well. I enjoy a challenge. I also think that everyone plays better when everyone treats each other with respect. If someone acts happy when their opponent has a bad play (ex: a gutter ball) then when it is their turn, their opponent may be praying and wishing that they make an error. These kinds of wishes and hopes may make players nervous and then they don't play as well. When my opponent has a good play, I cheer them on and then I try to do just as well as they did and I hope they are just as happy for me as I was for them.
Sports should be fun and positive. Sports are designed to keep our bodies and minds healthy. Negative thoughts are not good for our minds and therefore not good for our bodies or our sport. This is why I think that good sportsmanship is a very important part of sports.

6th & 7th Grade Finalist: Aidan Dolinsky, 7th grader at Hunter College High School (Manhattan)
This was fourth grade. Little league. Crazy parents and upset children were the standard. Mustangs: 7 wins, 2 ties, 1 loss. The Bears. Undefeated. Ruthless. Today was the championship, and I was on the Mustangs. Our parents had already talked to us about "not getting upset if we lose" and that playing a "fun game is better than winning". We didn't believe them. Secretly, our parents wanted to win more than we did. This was Randall's Island.
We started off strong in the first inning. The opposing pitcher was the dreaded Nick G. He had a deadly arsenal of pitches for a fourth grader, and he hadn't given up a run during the regular season. I was up to bat in the first inning. Runners on third and first, two-two count on me. Luckily, I happened to know that he usually throws a fastball up and in, and that's exactly what he threw to me. I smashed it over the head of the third baseman for a RBI double. That's when I realized that my team might have a chance of winning.
Then began the bottom of the first inning. Ryan was the starting pitcher for my team and he struck out the first two batters. The third batter popped up to the infield. By the top of the fourth, the score was 3-0 Mustangs. This is when we realized that the other team hadn't had a hit yet. This really boosted our confidence. I then came in to pitch the fourth and fifth innings, striking out five, not allowing any hits. At the top of the sixth, the score was still 3-0. I quickly struck out the first two batters. Then, something interesting happened. Now, on most occasions, I would gladly have a weak batter face me any day of the week. This time the situation was different. I am not going to use his name for obvious reasons, but let's just call him Tom. Tom had autism, and every team in the league knew this. Tom hadn't gotten a hit the entire season, and I knew this had made him very upset.
Tom stepped up to the plate with only fear in his eyes. I immediately thought I would blow him away with three fastballs. Then I realized that I didn't need to be congratulated on the no hitter. Tom needed to have that feeling of admiration, at least once in the season. The first pitch I threw him was a very slow fastball (a meatball, in baseball terms) right down the middle, just so that he could make contact. He blooped a hit into left field, his first and only hit of the season. Tom was so happy, celebrating on first base with the crowd screaming his name.
We still ended up winning the game, 3-0, throwing a one-hitter. What made me happy wasn't winning the championship. It was seeing the look in Tom's eyes. That was sportsmanship, and sportsmanship felt great.

6th & 7th Grade Honorable Mention: Sophie Divilek, 7th grader at Riverdale Country School (Bronx)
My feet slowly slushed as I walked through the mucky, damp, field. As I moved my feet I heard the rusty leaves cracking and scraping against the bottom of my worn out soles. The sound of me walking through leaves was quickly muffled out by the "booing" of the other team.  Before I could peer up at the negative comments directed towards us, I heard the booming voice of my coach calling me over.
Once I got to him, coach gave us our "words of encouragement," which usually consisted of negative comments he was permitted to say. With a final, "win," we headed to our possessions.
I made it to my spot on offense and tried to focus on my main task, "run and score," as coach says. My vision quickly dazed off to the sky; through all the dark and giant masses of clouds, there would always be a small ray of sunshine reaching out.
All of a sudden I heard the sharp sound of the whistle. A soccer ball came flying at me, and with the cat-like reflexes I have, the soccer ball landed in my hands. I tried to drop it and make it seem as if I never caught it.  My teammates, people from the other team, and my coach taunted me.
I was pulled to the sideline, and my coach grabbed me and "whispered" into my ear. To this day I still hear the vibrations of his warning in my eardrum. "I've never expected to see a player as bad as you, ever; one more mistake and you're off the team.  Better yet, you don't score in this game, you're done."
I looked away so he wouldn't see the water filling up in my eyes. I wiped away the tears before they could fall out on their own. I turned my head to see a girl from the other team starring at me.
Second half came and after the coach gave his usual speech, he pushed everyone back in, except me. I remained silent.
Five minutes left on the clock. I watched the game on the edge of my seat. I heard the piercing sound of the whistle and watched in astonishment. A red card was pulled from the referee's pocket.  The referee gestured for coach to bring someone in.  Coach turned to me and hollered, "It's now or never."
The game started and five minutes were on the clock. Soon four. Then three.  I started to panic. The whistle blew. I watched as sub's from the other team ran in. I turned to see my coach glaring at me.  I ran up to the goal and waited. Some girl from the other team passed me the ball and gestured with her head to put it in the goal.  I stared at her for a few confusing seconds. I kicked, then scored.  Everyone cheered for me, I looked at the girl and recognized her from the sideline. She nodded. I thanked her.

6th & 7th Grade Honorable Mention: Jamie Gall, 7th grader at Trevor Day (Manhattan)
My synchronized ice ­skating team steps on to the ice in the regional finals. Our music starts. I immediately fall into my smiling trance and skate in time with the music. The footwork is playing in my head telling me exactly what to do next. I pray that no one falls jeopardizing our chance to win. My team and I are in sync cruising across the ice in our line. We turn backward and get ready for our kick. The music cue sounds and we all lift our foot off the ice. One of my teammates kicks too high and falls to the ice. My heart pounds faster and faster as she struggles to get back into the program. I cannot let the fall get to me and neither can my teammates. We finish our program without any other flaws.
My friend who fell is crying and thinks she is the reason we won't place. I put my arm around her and comfort her. Even though I feel disappointed and maybe even angry about the fall I know I need to comfort her because I know she feels worse than I do. I would want people to do the same for me.
Synchronized skating requires the ultimate sportsmanship as a team of 16 skaters must perform a 2 minute choreographed routine together. Everyone dresses in identical costumes. No one person can stand out as the star and there is no chance to recover from errors or take a teammate out of the competition midway through, if they're having an off day. The team must compete as one and the closer they feel to each other the more in sync they'll be and the better the team will perform. To me the role good sportsmanship plays in youth sports is not just being respectful of your opponents but supporting your teammates as well. Good sportsmanship creates an environment where everyone feels valued.
My teams' good sportsmanship will leave my friend not feeling bad about herself or guilty she ruined everything. It will leave her feeling like no matter what happens she is a valuable member of the team. Without good sportsmanship our team would fall apart with everyone blaming each other. I know in five years I won't remember my friend falling on the ice but I will remember placing 4th in the East Coast. I will remember standing on the podium at the medal ceremony and congratulating the other teams on their win against us. My experience with the role of sportsmanship shows, that good sportsmanship is not just about being respectful of your opponents but being supportive of your teammates.

8th & 9th Grade Winner:  Baird Johnson, 8th grader at Robert Wagner Middle School (Manhattan)
Into the woods. There is a saying, "the only thing more boring than track is cross country." Nothing could be further from the truth, yet as an outsider looking in, I can almost imagine a spectator at a cross country meet believing this. After all, they don't see what happens in the woods. But I do. Cross country is one of the few sports where there is virtually no attempt to entertain the spectators. It really boils down to athlete vs. athlete; it's pure, and simple. Distance runners in particular have an excellent sense of sportsmanship and goodwill. We may not be as famous or flashy as sprinters (You know the name Usain Bolt, but have you ever heard of Bernard Lagat?), but the camaraderie we share is unparalleled among competitors. We often train together, we always feel the pain together; push each other and help each other. But, back to those woods… one of the downfalls of leading in a cross country race is you are expected to know the course and it is sometimes easy to get lost or accidentally cross over onto another trail. This is exactly what happened to me. I was only a few meters ahead and more than half way through the course when I took a wrong turn. The runner in second place noticed my mistake and instead of keeping quiet and running ahead to an unchallenged victory, actually called out to me and showed me the right course. Could there be a better example of sportsmanship? No one was watching; just two runners in the woods.
More often than not, cross country runners also participate in indoor and outdoor track seasons. Our unity comes with us. We collapse together at the finish line; in a group, almost a huddle. Barely able to talk, yet still commenting and congratulating each other through our gasps for air. Not an obligatory high five, an honest, heartfelt "we're in this together and we made it" feeling. We take our time and we almost always leave the track together. We don't typically have that jubilant, peacocky celebration you see with some other athletes. When it's our day to finish first, we are quiet, understated. Sportsmanship shouldn't be for show. It shouldn't be trotted out on race day, when the cameras are rolling. It should be as much a part of you as your desire to run. It's what you do when no one is looking.
My dad asked if the positions were reversed in the woods, what I would have done. I would like to think I would have done the same thing. I know if it happened today, I would absolutely do the same thing. Sportsmanship is contagious. My dad, coach and I made it a point to find the other coach and tell him what happened in those woods. And, if you are reading this and are curious as to which one of us won that day, I'm going to say we both did.

8th & 9th Grade Finalist: Thomas Knoff Jr. , 9th grader at Xavier High School (Manhattan)
Sportsmanship is earning the respect of, and giving the same to your opponent regardless of how hard the competition may be. One learns to play hard, but if your opponent stumbles and falls you reach out with your hand and help them in a gesture of humanity. This philosophy magnifies your sense of self-worth and fairness.
Sportsmanship teaches that while you are competing, you maintain your own dignity and compassion regardless of your opponent's behavior and provide positive examples to all, kids, parents, coaches and referees. You play by the rules with strength in your heart and can go home afterwards with a feeling that you have done the right thing, which is empowering and increases your sense of morals between right and wrong. This is a lifelong skill that treats everyone fairly and also allows one to defend themselves if they believe they have been mistreated. Good sportsmanship is giving a teammate a high five after they missed an important free throw and building their self-respect without criticizing.
Good sportsmanship enriches your life so that you respect others including your parents, siblings, grandparents, opponents and authority figures. It is a way of life that makes you stronger to deal with inevitable adversity in life and focus on problem solutions rather than creating more strife and animosity. One of the best feelings is earning the respect of your teammates and when opposing players come over after the game and say it was pleasure playing with you. You know that you have done the right thing and competed with integrity. This is what youth sports should impart to all participants.
Good sportsmanship promotes a sense of justice in the world, which you can utilize in all aspects of life with dignity and fair play and a belief in oneself. I think the world would be a better place if everyone competes with good sportsmanship, integrity and respect for teammates and opponents. Everyone gains. Strong well-intentioned sportsmanship increases your self-worth, sense of fairness and the ability to get along with others.

8th & 9th Grade Finalist: Anna Lanzman, 9th grader at Stuyvesant High School (Manhattan)
Ever since I was a little girl, I was always involved in sports. At the age of three, I started out with rhythmic gymnastics and after doing it for nine years, switched to fencing two years ago. Right away, I loved it and knew it was the sport for me. In fencing, you fight your opponents while respecting them at the same time. You salute your opponent before each match, called a bout, and shake hands after. This respect was one of the many reasons fencing appealed to me so much. While I get to witness and exhibit respectful behavior at every competition, there was one in particular that really put my sportsmanship ability to the test.
It was an important tournament in Washington, D.C a few months ago. After pools, or the first part of the competition, finished, I sat waiting for the results to come out. I was angry at myself for losing three bouts, including one that I could've easily won. The results were finally posted and I saw only two defeats next to my name. At first I thought I was hallucinating. "Am I imagining this because that's the result I so badly wanted?" And then it hit me. The referee made a mistake reporting the results, and I ran to the bout committee to explain. They announced for the other fencer to come and confirm. She didn't realize that a mistake was made in my favor, and was extremely thankful that I pointed it out. The bout committee refused to change it at first, since the girl had signed her results and the rules are very strict about that. But I didn't want to give up because I felt that it was wrong to continue with results I didn't earn. I practically begged and finally they changed it. The new pool results were posted, and I was moved down from 12th place to 21st. This positioned me so much worse for the main part of the tournament, but nevertheless, I was happy. Everybody praised me and told my mom how proud she should be of me. The main part started, and I realized that my act of good sportsmanship gave me internal strength, I felt unstoppable: I was able to make last minute comebacks and win bouts against fencers who I'd normally never dream of beating.
As a result, I won a bronze medal at this large tournament, in the Cadet category, which is a year ahead of mine. I also reached a new milestone in my fencing by getting a C rating. From then on, the confidence that I got as a fencer, combined with the pride I felt for being a good sport led to many great achievements.
I will always remember this tournament because that's when I learned the true meaning of good sportsmanship. To me it means putting honesty and doing the right thing ahead of your desire to win, because in the end that's what leads to true victory.

8th & 9th Grade Honorable Mention:  Jeremy Weine, 8th grader at MS 447 (Brooklyn)
I play competitive baseball. This winter, to prepare for high school ball, I joined a more intense team—a tournament team. I was coming from a team where the goal was to have fun. The coaches were competitive, but sportsmanlike. The parents were interested in games, but were calm and composed. When I started playing with the tournament team, I realized that much adjusting was needed. At our first tournament, in Texas, the coaches stopped at nothing to win. The parents yelled and trash talked other players, as well as their own kids. The players danced and showboated. The dugout gave no support when our team was at bat. When we won the elimination games leading up to the championship, our coaches scolded us for our poor performances.
The championship game was heated. There was tension after three batters were hit—two on our team, one on theirs. When we took the field in the fifth inning, we were winning 7-1. The coaches of both teams had a meeting with the two umpires. Then, abruptly, the umpires called off the game and told the other team that they had won. The other team started clapping while we started laughing, as they seemed to be making a joke of their loss. However, our pitcher was not on the team's roster and we were disqualified; the joke was on us. We left our positions in the field to go to the dugout and ask our coach what happened. When we got to the dugout, many players' parents were already there, not to greet their kids, but to scream at the other team. "YOU SHOULD BE EMBARRASSED," some yelled. In the end, the tournament director decided that we were the rightful winners of the whole tournament. That seemed to soothe everyone on the team's anger, but not mine. I had just experienced the poorest display of sportsmanship of my life.
After this experience, I left the team, deciding that I did not want to spend time around the players, coaches, and parents at tournaments. I recommitted to my old team in search of what I left: waking up on a Sunday morning; driving to a baseball field in the Rockaways; talking with my coaches and playing baseball with my friends; cheering for my teammates when they're up to bat; saying "nice hit" to opposing runners when I play first base and they jog in after a single; and driving home with a friend on the team with parents whom I like and can relate to.
From this, I've learned a lot about sportsmanship. I've learned that without it, baseball is just a bunch of guys with bats and balls battling against each other. In contrast, sportsmanship brings athletes together, as competitors, but also as fellow appreciators of the sport. That's why we shake hands after games—to acknowledge that we are all sportsmen and that we enjoyed the time we were playing and are thankful for those who play with us.

8th & 9th Grade Honorable Mention: Kathleen Staunton, 9th grader at the Marymount School of New York (Manhattan)
According to Merriam Webster Dictionary, Sportsmanship is "fair play, respect for opponents and polite behavior by someone who is competing in a sport or other competition." To me, sportsmanship is a way of playing the sport you love while respecting, loving, and helping everyone around you.
In 2012 I played basketball for a team called Shooting Stars. I loved each and every player on that team, and although we had our doubts, we always knew that at the end of the day the only thing between winning and losing was helping each other out with constructive criticism. One week in April, I could no longer go to practice like usual. My brother was being driven to the hospital, and a few days later he would be dead after getting a cut playing basketball. This was and continues to be the hardest thing that ever happened in my life, he was my best friend and I miss him everyday. I spent two months in Ireland with my family and I was sure that I did not want to play basketball again; it would not be the same.
When I got back to New York, my parents asked me if I wanted to go back to practice, although I didn't, my parents somehow convinced me. My first day back, I can remember clearly. I walked up the same six flights of stairs into the same gym that a few months ago, before my brother had passed away that I would. When I walked into the gym, I was swarmed with hugs and I almost fell over! It took me a while to get myself to put all of my heart into the games. I was only giving 50 percent of everything I had. My teammates and my coach would always cheer me up and push me harder and harder until they made me realize something very important. Instead of basketball being something that reminded me of the cut my brother got while playing, it was my escape. It was making me work out the pain and making sure that the only thing I was thinking of was how I can improve, not anything else.
Sportsmanship is not just about your opponents, it's about kindness to everyone you play with, on and off the court. Without my team and their sportsmanship, I would not be who I am today. Sportsmanship ensures that no matter what you are going through, you will always have people playing with you who will help you play the sport that you love more than anything.

10th Grade Winner: Billy Lehrman, 10th grader at Horace Mann (Bronx)
I walked onto the field more nervous than I had ever been before. Today, after all, was my first tryout. I stepped out holding my dad's hand in my right hand and my blue Sammy Sosa glove in my left. After the tryout, and dozens of drills, I was relieved to hear that I had made the team. The coach came over and congratulated me, but also shared one note of criticism that I wasn't expecting: he called me out for being a bad sport. During the tryout, I had laughed when a kid dropped a fly ball and when another struck out. If I were to play for his team, my coach made me promise that I would follow his two rules: respecting and encouraging others. These two tenets of sportsmanship had never been a part of my arsenal until I had met my coach. Ever since then, I have embodied them, both on and off the field, and my life has been the better for doing so.
Coach quickly schooled me on his first rule of sportsmanship. Prior to our game, my coach pulled me aside and put out his hand, instructing me to shake it. Being a curious eight-year old, I asked why. He repeated, "Put out your hand," so I did. He put his hand in mine and shook it weakly. Afterwards, we shook hands again, but this time, he grabbed my hand firmly and looked me in the eyes. He asked me what the difference was, and I noted that the second handshake made him seem more confident and strong. He told me the key to winning a game was in this handshake because it brings you face-to-face with your opponents while offering them enormous respect. In turn, your rivals will reciprocate. Without mutual respect, sports would be marred by poor behavior. Through a simple handshake, my coach taught me the value of respect.
During the game, I learned his second rule of sportsmanship. I fielded every ball that came my way, delivering good throws to the first baseman; however, he dropped ball after ball. I let my emotions get the best of me and called him out for dropping so many throws. He hung his head and trudged to the batter's box. My coach saw this interaction and told me to look beyond the errors. Even if your teammate drops the ball, Coach countered, there will be another play later for him to make. " If you encourage him to make the next play, instead of getting mad at him, he has a better chance at succeeding." Focusing on only the negatives can discourage someone to give up entirely, while words of encouragement can drive someone to be the best they can be.
I still think back to how these valuable lessons of sportsmanship have shaped my life today. To me, the role of sportsmanship in youth sports is to teach aspiring athletes how to become better people through respect and encouragement.

10th Grade Finalist: Melina Asteriadis, 10th grader at The Bronx High School of Science (Bronx)
When my varsity soccer team lost a league game to our biggest rival, we came close to making a huge mistake. We almost took to social media to defame the other team, by getting involved in a post made by one of our opponents. I remember wanting to post a snarky comment, wanting to give in to my anger and frustration at losing, when I thought we deserved a win. But our team captain was adamantly opposed to this, telling us that it would just tarnish our reputation and take away from the true purpose of playing, without changing the game's result. When we played our rivals again in the state championship final, this time we won. And I remember how good it felt­­ not just because we won the trophy, but because we proved our maturity and sportsmanship as a team, and in turn got to walk away from the season as the better team, both on and off the field.
To me, sportsmanship is shaking your rival's hand after a tough game, even when all you want to do is send them a dirty look and ignore their outstretched hand. It is treating each teammate of yours with respect, even when you are competing for the same position. It is being mature enough to leave any enmity and personal feelings off the field. I think the true measure of an athlete­ and person's­ greatness is not just their talent, but their ability to pursue their interests without tearing down those around them. Many say that without sportsmanship, a team cannot be successful, but I disagree with this. A team can be successful, winning all their games, doing well in tournaments, or having a high ranking, without having good sportsmanship. But success means nothing if the team dynamic is negative­­ if everyone is more concerned with being on the starting lineup than the actual experience of being on a team. Success, in the long run, is not what counts in youth sports. You won't remember that one game you won, or your team's exact ranking, but you will have the memory of being part of a team, and being surrounded by your teammates. Whether that memory is a happy one or a sad one is what counts. In this way, sportsmanship plays the biggest and most important role in youth sports. Being a "good sport" is what translates into your development as a person­­ not how many goals you scored, or how many minutes you played.

10th Grade Finalist: Kelly Luo, 10th grader at Stuyvesant High School (Manhattan)
Track is a non-contact sport. At least, that's what people think. However, track athletes know this to be false. For example, in long-distance, people get pushy when they're packed into one lane. Everyone bumps one another to try to secure first place. But this just comes with competition. So what really makes poor sportsmanship?
I was the anchor for my 4x400m relay. As the last one to run, it was my duty to finish well. There was a large gap between our school and the school ahead of us, so when I received the baton, I bolted, determined to cover the gap. I only had to run two laps. But within two laps, a lot can happen. I had almost closed the gap in a lap and was ready to pass the girl ahead of me. She was on the outside of the lane, so I thought, Since she's on the outside, I can just pass her on the inside! I know I'm not supposed to, but there's plenty of room for me to squeeze in! As I was overtaking her, she swerved into the inside of the lane. I could not avoid her, nor could I slow down. My spikes caught onto the back of her spikes and she stumbled, but didn't fall. Despite my relief, I was not prepared for when she tripped a second time. Was that my fault? She slowed down, and I stepped on the back of her spikes again.
"YOU B****!" she yelled. Shocked, I went around her and ran for my life, partly because I wanted to finish the relay, and partly because I feared that the girl would curse at me again or catch up and step on my spikes, too. When I crossed the finish, I was breathless and my stomach spun in guilt. Running 400m makes your legs burn like hell afterwards, so I desperately wanted to collapse in exhaustion, but I knew I had to find the girl and apologize. What if she doesn't forgive me? What if she wants revenge? I looked to my coach, who nodded her head towards the girl. I walked to her reluctantly, the both of us panting.
"I'm… so… sorry…" I said between breaths.
"It's… okay…" she replied.
"I… didn't… mean… to−"
"It's okay… let's… forget about it." She extended her hand. I shook it.
"You were… faster than me anyways." She gave me a smile.
I still regret ruining her relay, but I'm glad we made up. Her forgiveness was all I could ask for. The reason why track has no fouls or penalty shots is because everyone respects one another. Yes, we compete from different schools, but in the end, we support and cheer for each other. When we cross the finish line, we hug and congratulate other athletes from our race. That is what sportsmanship is about; in spite of the competitiveness, we regard each other with fairness and kindness.

10th Grade Honorable Mention: Kenneth van der Lande,10th grader at The Beacon School (Manhattan)
It was the Youth National soccer tournament, the highest stage my team had ever played in. Whether it was the nerves, or just carelessness, we came out completely flat; after giving the ball away, they counterattacked and their striker capped it off with a goal in the first five minutes of the game. While walking back, he gave me a look that said, "That's right, how does that feel?" Five minutes later, another goal by the same striker. This time the whole team was laughing at us, as if we didn't deserve to be on the same field as them. The rest of the game we battled, scoring a penalty before the first half ended, and the tying goal in the last five minutes. After celebrating, I jogged past the striker, intentionally bumping into him; "Yeah, you like that ****don't you". "What'd you say ***?" he responded. Our egos took over, and we had to be broken up by our teammates. All of who I was-swept away by the rage and aggression as I became more intent on obliterating that striker than winning the game.
The game went into overtime, and I stepped back on to the field, blind with rage. The whistle blew, and the battle commenced again with both teams playing back and forth beautiful soccer. Despite this, no one seemed to be able to get through for a scoring opportunity- until a ball was played overhead to the striker on the wing. Controlled by all the anger and frustration, I slid-he collapsed. Everyone knew, especially me, that was a red card. But the ref, maybe by a trick of the eye, thought it was a clean play. So, we played on, with my feuding enemy wallowing in pain on the grass. Five minutes later, we scored. After celebrating, I looked at the striker-his eyes, gray with dejection. His eyes, glossy with tears, mirrored off an image of myself that I cringed at. Is this what winning is?
I have played soccer for eleven years; as a toddler, going to Randall's Island every Saturday and blasting shots at PUGG goals, in elementary school during recess, dribbling on the hot cement, and now, playing tournaments in Virginia or Washington. Over the many years and different places, the uncomparable rush of winning stays the same, and likewise with the pain of losing. But in my experiences as a competitor, I have come to realize that the great sensation of triumph is always dulled by the guilt of poor sportsmanship. When playing a sport simply to destroy and humiliate all the other teams in your path, you are destroying the moral integrity and core of what all sports essentially is; to have fun. As I mature, I continue to learn the essential skill of being a good teammate as well as opponent. Hopefully, this will help in upholding the principles of sportsmanship and making the game more enjoyable for all athletes such as myself.

10th Grade Honorable Mention: Vanessa Miranda, 10th grader at the Laboratory School of Finance and Technology (Bronx)
I was recently on a Junior Varsity girls basketball team. Our coach had never coached before and hadn't played basketball in a while so she wasn't the best. Because we were Junior Varsity we didn't get much attention. We would practice in the "dungeon" which was actually the cafeteria hallway. Of course this wasn't the best for us since we BARELY got the gym to practice, which means we were behind on shooting drills and practice play time. We would mostly practice dribbling drills, which we barely grasped onto. Also practicing in a cafeteria hallway wasn't always motivating so we would slack off most of the time. Our first game we stood on zero for 3 periods. This was the beginning of the embarrassment. We lost every game and would get "smoked". We would always get talked about in a bad way from other students and even the boys and girls varsity team. They never had this kind of record. The boys varsity team was praised. They got everything and anything and had the best and supporting coach. They won almost every game reaching 100+ points. The players on the varsity team were popular so things they said would get around easier or meant a lot more to people. They were the ones who would talk and spread rumors about us the most. This would cause others to talk and make fun of the JV girls basketball team. It did pressure us a lot and many people wanted to leave the team because of it, but we kept each other together. We would motivate face to face and over our JV basketball girls group chat on Facebook. We had faith in ourselves when nobody else did including our coach. We stopped teammates from getting in trouble, fights, quitting the team and more. We never doubted ourselves and we knew although we lost every game that we were a good team and we weren't less than everybody else made us think. We understood why we lost but we always knew we would or could get better. We did not let down our teammates and would always clap hands with the other teams after our tough loses and say "Good game." This shows that the role sportsmanship plays in youth sports is learning to be strong, fair, ethical, and to be an understanding team player when facing tough times while being on a sports team.

10th Grade Honorable Mention: Oscar Garcia, 10th grader at the Business of Sports School (Manhattan)
Whether it's a small act or major act of positive influence, we've all seen it happen. Sportsmanship. As a soccer player, sportsmanship is a style, an attitude when playing the world's most beautiful game. When scoring a goal, the sensation is unbelievable especially when that goal is a solo effort. All eyes and spotlight are on you. Crowds chanting your name and number, millions of people under one voice. That. That is my dream. To walk into the pitch and everyone is screaming Oscar, Oscar, Oscar! But not always has my vision been on that moment.
At a young age, having a ball on my feet was everything to me. Kicking the ball around, I pretended like I was the best. Meeting friends who played soccer was an exciting moment, because it was like staring at a mirror. Every one of us shared the same passion. But they were twice my age and bigger. For a six year old, it was hard to get a spot when playing a game. If I was chosen, I would play goalkeeper, but I wanted to touch the ball with my feet, not my hands. But there was a kid, who played splendid. Quick, agile, and had a magnificent kick. One day when choosing teams I was his first pick! Everyone said "Él?" Him? Even I thought it was a mistake. But his answer couldn't have been stronger and clearer. "Si, a el." (Yes I want him)- At the time, I didn't know what Sportsmanship was, or the power of being a good sport. But he made me notice that being a good sport was more than just being kind. It was a choice. His great sportsmanship impacted me in such a way that game by game my confidence grew greater and bigger. "Sigue", go on. "Si no marcas gol, mañana es otro día". "Never give up on the ball, or then you fail". Always, his advice was there, He was my big brother I never had. Unfortunately, his awful decisions off the pitch ended his career shorter than usual. What he managed to spread was inspiration to me and my heart. Good sportsmanship in youth sports is a choice. It is lending a caring hand to a rival that cannot pick himself up.
Good Sportsmanship is vital when playing any sport. It shows the true love for a game. It shows the side of human kindness. But not only should be a good sport on the field, but off the field because life is a game. He, who plays the best, succeeds. I mean after all, Isn't it every athlete's dream to hear their name being chanted by millions of fans? Being a good sport just like my friend, made me realize that no matter on or off the bench, there will always be a place for me and you on this Earth.
(*I never mention his name because he Rests In Peace)

11th & 12th Grade Winner: Emily Hirtle, 12th grader at Stuyvesant High School (Manhattan)
I can hardly hear the cheers around me over the sound of my heart beating and heavy breathing. My quads and calves engulf in flames as I sprint down the field, soccer ball at my feet. My aching muscles' saving grace comes as I reach the 18. Now it's just the goalie and me. I fake left, sending her diving, and softly fineness the ball into the back right corner of the net. As I'm mid-victory-jump I hear, "ref, sub," followed by an unexpected, "Hirtle!"
Shocked, I jog off to meet my coach, his arms crossed as he looks down at me.
"What are you doing out there?"
"I'm a forward, isn't it my job to score?"
"Not when we're up 6-0. Come on, show some respect."
Confused and angry, I retreat to the bench. What's the point in being the soon-to-be 2010 champions if I can't even score?
Fast-forward five years. I've long since left that team and it's my senior year on varsity. We've won about 6 games since I was a freshman, and have almost 50 "goals against" in this season alone. I love soccer and always will, but it's getting harder and harder to get psyched to play three times a week when we keep losing [insert large number]-0.
It's one of the last games of the season, one of my last games ever, and it's against the first place team. I don't tie my ponytail extra tight or triple knot my cleats like I normally would for good luck – I don't even bother to tuck in my jersey. If I don't put my heart in it it won't matter when we lose by nine points. When I don't try, I almost can't hear my opponents' giggles and snarky comments with each goal.
In this season, I've finally come to understand why my coach subbed me in that game in 7th grade. He was teaching me how to play with class, which too often is lost in the hyper-competition of youth sports. I cherish my final year of soccer for what it was, but many of the games felt incomplete. They were missing sportsmanship, which is ultimately what makes soccer soccer.
Sportsmanship is about more than just following the rules of the game – it's about maintaining the respect that gives soccer (and all sports) its integrity. When it is lost, the heart of the game is lost, leaving players apathetic. Even for the winning team, the thrill that comes with scoring a goal is lost when you've already made seven. Essentially, without sportsmanship there is no passion, and with no passion there are no sports. Although I wasn't happy about it at the time, I'm thankful for the lesson that my old coach taught me. I was a forward for nine years, on both an undefeated, and a completely defeated team. The most important goals of my career were the ones I didn't score.

11th & 12th Grade Finalist: Danielle Black, 11th grader at The Dalton School (Manhattan)
Sportsmanship is a relationship between participants in a sport. There is good sportsmanship and bad sportsmanship. When I play soccer I know I am not the only one on the field. Whether the person next to me is wearing the same team name as me on the front of their jersey or the name of the rival team, they are due a level of respect. To some, sportsmanship is a proper handshake after an intense game or the number of yellow cards acquired over a season; to me, sportsmanship is a mutual respect for the sport and its participants.
I put my heart and soul into almost everything I do. My aggressive and diligent nature allows me to be passionate about most of my endeavors, be they academic or athletic, yet sometimes my emotions can be an obstacle. I can clearly recall an example of this happening during my school year when I went into a soccer game really tired from staying up late doing homework the night before. I was relying on my mental strength out on the field, but my body was not up to its usual stamina. So, I was not surprised when my mental strength did not compensate for my physical weakness. However, I was disappointed by the fact that I allowed my frustration with myself to manifest into anger towards my teammates. Not only was I promoting the loss of the game, but I also contributed to a temporary loss of morale among my teammates. Every missed touch and incomplete pass made me more and more upset. Instead of being a leader, I was undermining the confidence of my team. Eventually, I was pulled off the field. "What's up with you today?" my coach asked. My throat closed and I could not seem to form the words to respond. I trudged to the end of the bench, bent down to pick up my water bottle, and tears fell to the turf. After the storm had passed, I took a couple of minutes to collect myself and went back to my coach and said, "I'm ready to go back on." My coach put me back and I picked my teammates up instead of putting them down. The focus among all of my teammates shifted and I ended up scoring two more goals in our first game of the season, which set us up for eventually going to the NYSAIS finals at the end of the season, for the first time in our team's history!
In soccer and life, obstacles and setbacks can make us forget that everyone is out there to play the beautiful game and that one player with bad sportsmanship can ruin the opportunity for everyone to win. Emotions can be a driving force when doing something we are passionate about, but it takes strength not to let those emotions overshadow the responsibility of being a team player. I feel lucky to have learned this lesson in good sportsmanship relatively early in life.

11th & 12th Grade Finalist: Adryan Barlia, 12th grader at The Beacon School (Manhattan)
In my sophomore year of high school, I joined my school JV Baseball Team. Unlike that of the majority of the players in the team, that experience was my first. The responsibility, the commitment, and the trust that went into being part of a team was all new to me. It was in this team that I received my first sportsmanship award; "Beacon High School, Boys JV Baseball, Sportsmanship, 2013-2014" is what is engraved on a crystal trophy that sits on my bookshelf, even as I write this.
Sportsmanship in a team is often undervalued because of what youth sports of this generation focus on- just winning. In today's day and age, youth sport members (regardless of what sport) are fixated on being the best player of the team and being able to outshine everyone else, in whichever means it takes to get there. Teams and individual team members are simply too aggressive in sports today and only focus on wanting to beat the other team or just perform to be able to get an Most Valuable Player award at the end of the season. Although there is nothing wrong in wanting to be the best or winning, when winning is all that is focused on, then it takes out from the experience of playing the sport in the first place. Sportsmanship is not all about winning, but about the good-natured experience of playing the sport.
Going back to my baseball team example, I can recount several instances of some great sportsmanship from my fellow team members. In a game we held against one of our rival high school teams, their team realized that one of their most crucial players did not have his proper equipment- his catcher's mitt. A catcher's mitt is very different from a regular baseball glove, and is very specific to baseball catchers, so no other member in their team was able to assist. From where I am sitting in our dugout, I saw my team's catcher get up and run up to the opposing team's dugout, with his mitt in hand. I then witness our catcher give his mitt up to the other team to use for the following inning. As our catcher came back, he did not make a scene of it or show it off to anyone in the team, but we all saw and we knew: that was true sportsmanship. Just focusing on the game as an experience for all, rather than an aggressive competition, shows a lot about a team member.
Youth sports today, suffer heavily from lacking sportsmanship. But what needs to be realized is that sportsmanship plays the biggest role in every sport, because without it, there would truly be no enjoyment in sports- no human element of caring. It is my own opinion that there should be no "Sportsmanship Award" for a member in a team- sportsmanship should be standard and expressed by every member in every sports team in youth sports today.

11th & 12th Grade Honorable Mention: Ava DeMayo, 11th grader at Frank McCourt HS (Manhattan)
As a young child I did not have much interaction with other kids in a competitive environment until I joined a swim team. I tried out for the Thunderbirds a local swim team at the JCC in Manhattan when I was about 6 years old. I did not know anything about swimming at a competitive level, I only knew that I had fun when I swam. The team was small and we all became a family. We were not only taught how to swim fast but how to respect our team, our coaches, and our competitors. As the years went by I was not only able to become a better swimmer but I learned what it means to be a good sport.
Sportsmanship is being able to identify that your opponent has put in time and effort into practicing. Hours after hours of building skill, technique, and strength is difficult. At every meet each swimmer on our team is expected to wait in the pool until everyone has finished the event, and to shake the hands of the swimmer on either side of your lane. Even after putting your all into your swimming, true sportsmanship is to realize that they did too. To acknowledge this by shaking their hands and congratulating them. At first I did not quite understand why we were being nice to the people who are trying to beat us.
After having the coaches repeat over and over that we had to stay in the pool and shake their hands, I now do it without thought. At the end of the meet after the announcement of the winners, each team cheers for the other team. At my first meet I was delighted that before we could leave we had to cheer. "Potato chip! Potato chip! Munch, munch, munch! Who do we think is a mighty fine bunch! Go Sharks!" We put in excitement and energy in showing the other team that we appreciate the competition. I realize that we are all here for the same reason. What is the point of bashing each other if we can push each other. Seeing another swimmer reach top speeds and beat the competition sets a fire inside me. I tell myself I can do that, I can be that fast. The competitive nature of playing a sport does not have to lead to disrespect but can lead to motivation.
Overall, sportsmanship is the ability to show your competitor and your own teammates that you acknowledge and appreciate the hard work they put in when completing the sport. Swimming has brought me a family, a stress­free environment, and a positive outlet for my energy. Creating a more welcoming environment allows for all participants to have fun and to realize that we are all here because we would not trade the pool for anything else. The most successful athletes are the ones who think about others alongside themselves.
Share on FacebookShare on TwitterShare on Google+
See more New York Sports Connection articles
Be the first to leave a Comment
You must be logged in to post a comment.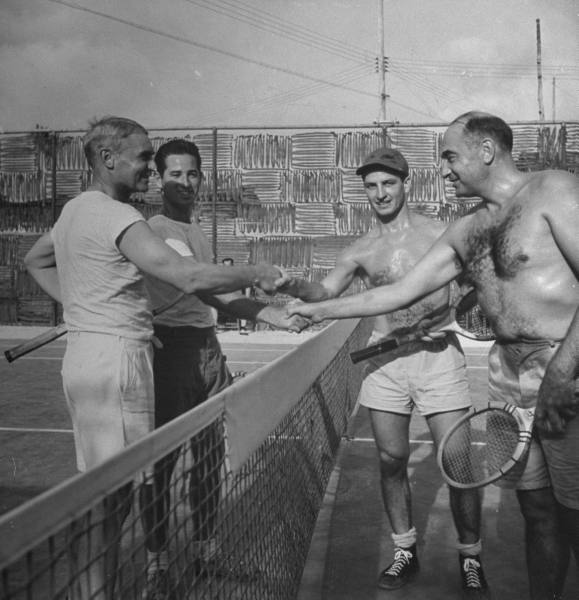 Source: Life
There's a reason so many motivational speakers use sports as a metaphor for life. There are innumerable  parallels between what it takes to be successful both in real life and on the playing field. The qualities of determination, skill, and hard work contribute to a man's chance of winning in both arenas. There is a parallel between life and sports that doesn't get enough attention, however, and that's the connection between a man's character off the field and his good sportsmanship on it.
Good sportsmanship encompasses many aspects of a man's character, the most fundamental being respect. The good sportsman respects both his teammates and his opponents as equals. He plays with integrity. A win that does not come fairly holds no satisfaction for him. He is honest in his dealings with opponents, because he treats them the way he wants to be treated. He is unselfish in his desire to see all his teammates participate and enjoy the game. He is humble in his victories, and has the proper perspective on his losses. In short, the qualities that go in to making a good man are the same ones that contribute to being a great sportsman.
Unfortunately, as men's character off the field has declined, so has their behavior on it. Men pout and even cry when they lose, they gloat when they win, and they take sports far too seriously. A man should understand that good sportsmanship truly enhances the experience of both playing and watching sports. Players feel encouraged by one another and take satisfaction in the fact that the game was played fairly. And fans can really enjoy themselves at the games.
As both a player and a fan, I've noticed that men could really use some brushing up on the rules of good sportsmanship. So here's a primer.
Good Sportsmanship as a Player
Play fair. Sounds simple, but you'd be surprised how many men will cheat or play dirty to win.  Remember, it's just a game. There's no need to stoop to dishonesty to win something as inconsequential as beer league softball game. If you cheat, you may get the victory in the short term, but it will forever ring hollow for you.
I think Teddy Roosevelt sums it up best: "Hit the line hard; don't foul and don't shirk, but hit the line hard!"
Be a team player. If you're playing a team sport, do your best to get the whole team involved. Don't try to be the star by hogging the ball. I know this can be hard when your talent surpasses that of your teammates, and you know you could win the game by carrying the whole thing on your shoulders. But selfish game play ruins the fun for everyone else and just makes you look like a jerk. What it comes down to is this: why are you playing this game? Is it for a win to help boost your sense of self-worth? Or is it for the pure love of playing itself? When it's the latter, you naturally want to make sure your teammates have the same great time that you do.
So make a conscious effort to involve the beginner/poorly skilled players on your team as much as you can. Sure, they might flub the play, and they might even cost you the game. But in the long run it's better for them and your team. The only way they're going to get better is if they get plenty of playing time. By leaving them out, you're denying them an opportunity to improve. And being a selfish player will breed resentment and divisiveness on your team. Have some patience and pass the ball to the rookie.
Stay positive. It's easy to get negative when things aren't going your way. A man knows how to stay positive when the chips are against him and his team. Even if a teammate royally screws up, keep positive. Berating him doesn't accomplish anything besides making him feel worse than he already does. Instead, slap the guy on the back, tell him to shake it off, offer some advice, and let him know some of the things he's doing right.
Oftentimes, the guy who moans and groans about other players' mistakes is making plenty of blunders himself. Just remember: you're not perfect either. Get over it.
Keep trash talk to a minimum. One thing I've noticed is that the player who continually runs his mouth with trash talk is usually the player that isn't actually doing much physically to help his team win. I guess it's their way of making up for their lack of skill. Instead of wasting your energy and focus on running your mouth, concentrate on actually outplaying your opponent. Let your performance speak for itself.
Also, throughout the game, make a conscious effort to give credit to an opposing player when they make a good play. A simple "nice job" or "good work" is all that is needed.
Lose gracefully. In any sport, there will be winners and losers. And sometimes you're going to be on the losing side of the equation. The sooner you accept this fact, the easier it will be to handle a loss.  When you lose, don't sulk, throw a temper tantrum, or cry like a little boy. Be a man and give the other team a congratulatory handshake.
Also, don't blame your other teammates or the officiating, either. Show some leadership after the game by rounding up your team and offering them a pep talk. Point out what people did well, but also what needs to be worked on. That's much more constructive than telling your first baseman that he sucks balls.
Finally, remember to keep things in perspective. It's just a stinkin' game. In the grand scheme of things, it's not going to make much of a difference in your life if you win or lose a pickup basketball game. The sun will still rise, your wife and dog will still love you, and you'll still have to pay the bills. So why let a loss bring you down and put you in a funk for the rest of the day?
Win with class. If you find yourself in the winner's circle, remember to show some class. Don't gloat or put down the other team after your win. Let your performance speak for itself.  After the game, make sure to tell the other team "good game." Offer some compliments to the opposing players.
Respect the rulings of officials. If your game has referees, remember to respect their rulings, even if they make a bad call. They're human beings and are bound to make mistakes. While it's fine to contest a ruling, make your case calmly and rationally. If they decide to stand by their ruling, accept it, and move on. Remember, sometimes bad calls go your way, too.
And for your viewing pleasure, we dug up this old educational video from 1950 about good sportsmanship. Yeah, it's a little hokey and it's geared towards teenage boys, but I think it does a good job explaining the importance of developing good sportsmanship:
Good Sportsmanship as a Fan
A recent study by the NCAA showed that while sportsmanship among players has improved over the years, sportsmanship by the fans has gotten worse. It's pretty sad when the people who have the least invested in a sport stoop to inappropriate behavior just for the sake of rooting their team on. Here's a quick reminder of some things to keep in mind next time you're at the big game.
Watch your alcohol intake. Most displays of bad sportsmanship from fans could be eliminated if fans would just drink responsibly. Know what you can handle before you start to lose your inhibitions and get unruly. Besides, it's hard to really appreciate a game if you're completely tanked.
Respect the opposing team. Use your lung strength to root for your team and not against the other. When the visiting team walks out on to the field, don't be a cad and boo them. Instead, respectfully clap for them. Applause is also appropriate when an opposing player is taken out of the game due to an injury. Finally, while it's tempting to taunt and heckle an opposing team, be the better man and avoid it. It just brings the game down.
Respect your fellow fans. Tickets to major league and college sports games cost big bucks. For many people, they are a splurge, something they buy in the hopes of having a great experience. Don't ruin it for them by running your mouth the whole game. Nobody likes to sit next to the guy who loudly gives his armchair perspective about what went wrong with each play and how the coach is a moron. It grates on the nerves. Also, be respectful to fans who are rooting for the opposing team. Their allegiance to a set of guys wearing different uniforms and playing a game does not mark them as arch enemies or make them less human. Don't give opposing fans dirty looks or hurl crass insults in their direction.
Watch your language. I'm always amazed at what comes out of the mouths of fans at sporting events. It would make the saltiest of sailors blush. While I can understand an exasperated "damnit" being uttered from time to time, there's no excuse for a fan's language to devolve into lurid and filthy talk. Remember, at most sporting events there are children, so adjust your language accordingly. And besides, if the rules demand that the athletes keep their language clean, we should expect that from the fans, too.
Respect the officials. Just as players should respect the officials, so should the fans. I've been to sporting events where the refs are booed as soon as they walk out on to the field-before they've even made a call! Give the officials the respect they deserve. If it weren't for them, you wouldn't be able to enjoy the game. Sure, they all make boneheaded decisions from time to time. But guess what? We do too. Imagine what it would feel like if every time you made a bad decision at work, some jerk was there telling you to go kill yourself or saying some ungodly thing about your family. Not very cool, huh?
When you're feeling angry at the ref, take a minute to get some perspective on the situation. You may be able to see the whole field of action from your perch in the stands and see the replay in slow-mo on the jumbotron, but the ref is out there at eye level watching the action happen in the blink of an eye. It's not an easy job, and they're doing the best can.
Support your team, even when they lose.